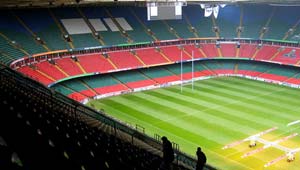 The Millennium Stadium is the modern home of Welsh Rugby, but it's also an arena that can be used for other sports like soccer or as a music venue. It has also played host to large shows. They're able to use it for so many different things because the pitch is set into moveable concrete blocks which can be picked up and moved out. The stadium is one of the new water-side additions to the city centre and we can thoroughly recommend the regular tours.
Our guide for the tours was brilliant and really brought the place alive. You get to see the dressing rooms, the royal box and go pitch-side amongst other things. The stadium has a sliding roof which allows it to be used in all weather but the seating walls are so large and the stadium has so little natural light that special heat and light emitters have to be used to help the grass grow! The height of the seating also makes you feel a little dizzy if you climb to the top on the tour.
The Millennium Stadium is located near to Cardiff Castle and has created a new look to the city's skyline. It's open for tours Monday to Saturday 10am to 5pm, Sunday 10am to 4pm. Adult admission for the tour is £7.50 with concessions available for children plus a family ticket option too (2012 prices). The Cardiff Hop-on, Hop-off Bus Tour stops at the stadium.
Location & Contact
Address: Millennium Stadium, 101 St Marys Street, Cardiff CF10 1GE
Tel: +4429 2082 2228 (Tours)
Email: tours@millenniumstadium.com
More on the Millennium Stadium
Cardiff Hop-on, Hop-off Bus Tour – Stops at the Millennium Stadium
Millennium Stadium – Tours
Millennium Stadium – Wikipedia
Hotels near the Millennium Stadium – Great deals from Hotels.com
Cardiff City Guide – From our sister site Free-City-Guides.com