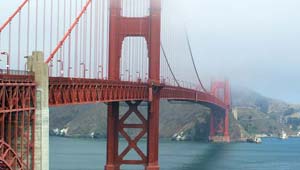 Golden Gate Bridge in San Francisco is one of the most recognisable and iconic bridges in the world. It spans the Frisco bay and you have to get close to appreciate just how big it is.
There are lots of options for sightseeing around this attraction. The simplest is to walk over the bridge, although it's a long walk and then you have to walk back, so walking part of the way and turning back might be a better option.
Another option is to take one of the many tours of San Francisco which take in the bridge. Most of the bay cruises let you see it from below, whilst tours like the combined Alcatraz & San Francisco City Tour call in for a photo. This tour consistently gets great reviews from other travellers.
If you don't visit on an organised tour, your problem might be how to physically get to the bridge as it's quite far away from centre of San Francisco. On one occasion we walked from Fisherman's Wharf along the edge of the bay and it took a couple of hours to get there.
If you have a car, there is parking at the bridge, but it is limited. On the south side, there are 81 parking spaces at a special visitor's area which includes a cafe, visitors centre and several scenic viewpoints of the bridge. Parking is $0.25 per 15 minutes (2011 prices).
On the north side of the bridge parking is free but the only amenities on this side are the restrooms. Bear in mind that if you are driving south from Marin County and you want to park on the north east side, you will have to cross the bridge, pay the toll and double back.
In our opinion, the view on the south side is best but bear in mind that the bridge is often shrouded in cloud, so choose the clearest day you can to visit. You can also reach the southern end of the Golden Gate Bridge from San Francisco on Golden Gate Transit Routes 10, 70, 80 or 101.
LOCATION & CONTACT
Address: Golden Gate Bridge, P.O. Box 9000, Presidio Station, San Francisco, CA 94129-0601, USA
Tel: +1 415 921 5858
Golden Gate Bridge is on Highway 101 and links the San Francisco with Marin County. Current cash tolls start at $6 for a 2 axle vehicle (2011 prices)
MORE ON THE GOLDEN GATE BRIDGE
Golden Gate Bridge – Official website
Alcatraz Tour Options – Stops at the Golden Gate Bridge
Hotels near Golden Gate Bridge – Guaranteed lowest rates from Hotels.com
San Francisco Guide Books – Amazon.co.uk
More Things To Do In San Francisco
San Francisco City Guide – From our sister site, Free-City-Guides.com