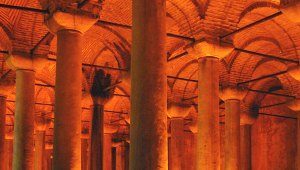 Basilica Cistern is a former underground water storage area in Istanbul. Today it's a tourist attraction where you can enjoy live music concerts and see just how ingenious the Byzantines really were.
There are over 300 columns inside the cistern and a number of walkways have been constructed so that you can walk around with ease. The most impressive part is the ceiling which tops the columns and even with the dim, red lighting, you can see the beautiful workmanship in creating a stone roof over the cistern.
At the base of the cistern, some water remains to give you the effect of what this place was. Of course, in years gone by, the whole room would have been full of drinking water for this neighbourhood of Istanbul.
There are a number of these cisterns still in existence in the city, but this is one of the best and largest to visit. They were important to secure a clean and reliable supply of water for the city's inhabitants, even in times of conflict. The water inside the cistern, was piped by a long network from streams outside the city.
We found the whole place fascinating and enjoyed wandering around. Of particular interest are the bases of two columns which have clearly been used elsewhere as they have had carved into them, detailed images of Medusa. It's not known how they got here, but you can follow the signs to see them.
Basilica Cistern is open daily from 9am to 5.30pm. Adult admission is 20TL (2016 prices). The entrance (pictured above) is inside a small building adjacent to Sultanahmet Square. You can also see the Basilica Cistern on this guided tour:
The Best of Istanbul: Hagia Sophia, Basilica Cistern & Blue Mosque
LOCATION & CONTACT
Address: Basilica Cistern (Yerebatan Sarnıcı), Yerebatan Cad. Alemdar Mah. Sultanahmet, Istanbul
Tel: +90 (212) 512 1570
Email: info@yerebatan.com
Basilica Cistern is adjacent to Sultanahmet Square. Use the Sultanahmet tram stop to get here, or the Istanbul Hop-on, Hop-off Bus Tour.
MORE ON BASILICA CISTERN
Basilica Cistern – Official Website
Basilica Cistern – Wikipedia
Boutique St Sophia – Our recommended hotel is next to Basilica Cistern
More Things To Do In Istanbul