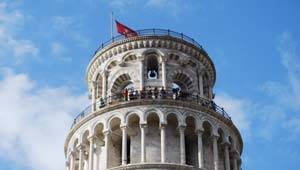 Without doubt, this is Pisa's most famous building and it's well worth a visit. The tower was built to house the bells for the lovely cathedral and construction began in 1173. Almost immediately it began to lean – in fact the builders were only on the third floor when they started to notice something was wrong. The leaning became so bad in the last 20 years that the tower had quite a few years of closure whilst it was made safe.
It finally re-opened to the public in 2001 and the work that has been carried out should now secure its future. When you enter the tower from the large door at the base, you begin to climb a spiral staircase which snakes around the outer edge of the structure. You lunge from side to side as you climb which is a bizarre experience! Once at the top though, the view is magnificent over not just the Piazza dei Miracoli, but also most of Pisa itself. You can even see the planes at the airport!
Tickets for the Leaning Tower can be bought from either of two dedicated ticket offices run by Opera Della Primaziale Pisana. The main office is located in the building near the shop stalls – the entrance is under the clock. The other office is near to the leaning tower. Both are well signed. Admission is by timed ticket, available in half hour blocks of 30 people and you'll probably need to book ahead. When were we're there in June, the next available timed ticket was for 3 hours ahead but at busy periods you can wait considerably longer.
Adult admission is 15 Euros (2011 prices). The Leaning Tower is open daily but times vary throughout the year as follows…
December & January: 10am to 4.30pm (last climb)
November & February: 9.30am to 5.30pm (last climb)
March: 9am to 5.30pm (last climb)
April, May & September: 8.30am to 8pm (last climb)
June to August: 8.30am to 11pm
Bear in mind that it's quite a climb to the top involving a stone staircase that gets smaller the higher you get. There are points at which to stop and rest, but you will have to be out of the tower exactly half an hour after you went in. When we last visited the tower in 2011 there was no lift, but workmen were carrying out building work inside the central part of the tower and we wondered if they were installing one.
Location & Contact
Address: Leaning Tower of Pisa, Opera Della Primaziale Pisana, Piazza Duomo, 17 Pisa
Tel: +39 050 835011
Email: info@opapisa.it
Busses 1, 3 or 11 will get you to the piazza dei Miracoli from Pisa Centrale station. Alternatively you can use the Pisa Hop-on, Hop-off Bus Tour which visits all the mian sights in Pisa.
More on the Leaning Tower of Pisa
Leaning Tower of Pisa– Official website
Hotels near the Leaning Tower (Piazza dei Miracoli) – Lowest prices Guaranteed from Hotels.com
Pisa City Guide – From our sister site, Free-City-Guides.com