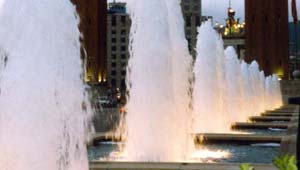 The Magic Fountain in Barcelona is a popular attraction when it "performs" and despite the crowds, we'd thoroughly recommend seeing it.
It offer a music, light and water show all wrapped into one but only at certain times on certain nights. There is a big flight of steps which everyone sits on to get a better view, but you'll need to be there early to get a decent spot.
The Magic Fountain is the centre piece of a collection of water features that you'll find on Avinguda Maria Cristina between Placa Espanya and Montjuic Park. It was built in 1929 for the World Fair and has been enjoyed by visitors ever since. Until the 1980s when the music was added though it was simply a light and water display.
There is a range of different music used for performances, movie music is quite commonly incorporated for instance, but the highlight for us was "Barcelona" by Freddie Mercury and Montserrat Caballe. It seemed a 'perfect moment' of our city break to be in Barcelona, watching the fountain perform that song.
When you're watching the fountain, think about the 2600 litres of water which are pumped through it every second!
The fountain performs from May to September, Thursday to Sunday at 9pm, 9.30pm, 10pm, 10.30pm and 11pm. From October to April performances are Fridays and Saturdays at 7pm, 7.30pm, 8pm and 8.30pm.
The nearest Metro to the Magic Fountain is Placa Espanya.
LOCATION & MAP
The Magic Fountain is a short walk from Placa Espanya. Take Avinguda Maria Cristina and enjoy the pleasant water features along the way.

MORE ON THE MAGIC FOUNTAIN
Magic Fountain of Montjuic – Official website.
Hotels near Montjuic Mountain – Lowest price guarantee from Hotels.com
Barcelona In One Day Tour – This recommended tour visits all the sights including Montjuic
More Things To Do In Barcelona – From our Tours & Activities pages
Barcelona Travel Guide Books – Amazon.co.uk
Barcelona City Guide – From our sister-site, Free-City-Guides.com