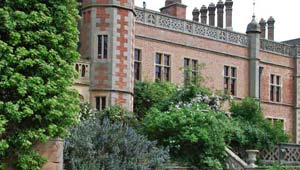 Charlecote Park is an attractive stately home located between Stratford-upon-Avon and Warwick. It's run by the National Trust, but in its past it was a family home that was once visited by Elizabeth the 1st . The owners built a special gatehouse in her honour which is one of the most attractive features of the house. It's almost like a almost like a minature version of the house itself and you can climb to the top of the gatehouse for a great view of the park.
Inside, you also get to see the rooms that were used by Elizabeth 1st but there's plenty more too. The dining room is set out ready for an important visitor, and the large library has a beautiful view out into the garden and down to the river. Even the billiard room is on display and you can imagine yourself playing billiards here with a glass of port!
We found that the outbuildings were some of the most fascinating features of the house. We particularly enjoyed looking around the old brewery building, the bakery, the tack room and stables. Also, don't miss the small gardens at the rear alongside the river which are great to sit in and watch the world go by.
It seems a little dubious, but on your trip to the house you'll probably be told that a young William Shakespeare was caught poaching here. We're not convinced, but it's a good story!
Part of the house is still lived in by the Fairfax-Lucy family, who have owned the house since it was built as the first great Elizabethan manor house in Warwickshire by Sir Thomas Lucy in 1551. Therefore, there are some areas of the house that are not open to the public, but we felt we'd seen plenty of the property on our visit. Even the traditional kitchens are open with cooks making period cakes!
Charlecote Park is open from Friday to Tuesday from March to October and only at the weekends from November to December. The house is closed in January and February although the gardens are open every day, all year round. Adult admission for Charlecote Park house and gardens is £9.50 (2011 prices)
LOCATION & CONTACT
Address: Charlecote Park, Wellesbourne, Warwick CV35 9ER
Tel: +44 (0)1789 470277
Email: charlecotepark@nationaltrust.org.uk
MORE ON CHARLECOTE PARK
Charlecote Park – National Trust official website
Shakespeare's England – Official website
Hotels in Stratford-upon-Avon – We recommend Hotels.com for the best prices
Warwick Hotels – From Hotels.com
Warwick Hilton – We stayed here for our trip to Charlecote Park – it's a lovely hotel
Stratford Upon Avon Guide Books – Amazon.co.uk
Shakespeare Country Travel Guide – From our sister site, Free-City-Guides.com