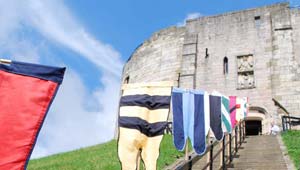 Clifford's Tower has been an attraction in York for hundreds of years. It's basically all that remains of the oldest part of York Castle. There was originally a wooden structure here which was built by William the Conqueror, but this was later replaced with the stone keep you see today.
The tower is operated by English Heritage and on the ground level there's a small courtyard with information boards explaining more about the building. When we visited, the King was there too and he was very knowledgeable about the importance of the castle and of York too. If he's there when you visit, make sure you talk to him!
The building is now well known for its fantastic views of central York. You can see these by climbing to the top level where a one-way system allows the narrow walkway not to get too crowded.
Another part of the building worth seeing is the tiny chapel which is up a spiral staircase from the ground floor. Some of the stone in the chapel is reddened, signifying that the room was damaged by fire at some point but there's not much else to see in there.
Your visit to Clifford's Tower is likely to be short as it's not a huge structure, but it's certainly worth calling in.
Clifford's Tower is open daily from April to September between 10am and 6pm, and from 10am to 5pm in November. The rest of the year it's mostly open only at weekends from 10am to 4pm.Adult admission is £4 (2012 prices) although we got in free with the York Pass.
LOCATION & CONTACT
Address: Clifford's Tower, Tower Street, York, North Yorkshire YO1 9SA
Tel: +44 1904 646940
MORE ON CLIFFORD'S TOWER
York Pass – Free entry to Clifford's Tower and other York attractions
Clifford's Tower – English Heritage Official Website
York Castle – Wikipedia
Hop-on, Hop-off Bus Tour – Stops at York Castle, near to Clifford's Tower
VisitYork.org – York Tourism Website
York Hotels – We recommend Hotels.com with their lowest price guarantee
York Insight Guide – Amazon.co.uk