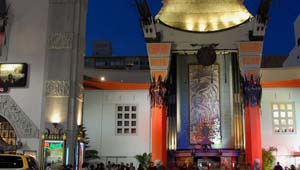 TCL Chinese Theatre is the most famous cinema in Hollywood. Despite being built in 1927, to this day it is still the home of many of the Hollywood premieres and crowds gather all around the old cinema when they take place.
You can take organised tours of the cinema and we'd thoroughly recommend them. The tour is brief, but really explains the background to the design and origin of the cinema. You'll get to sit in the famous seats, hear some of the stories of premieres over the years and see the luxurious, vivid red colour scheme.
Grauman's is perhaps best known though for what's outside the cinema because it's here that you'll find the courtyard where some of Hollywood's biggest stars have impressed their hands in the concrete and signed their names. Each star has done something slightly different and you'll have you own favourite to look out for. We particularly liked the square autographed by Bruce Willis!
Inevitably, this courtyard gets very busy at times with tourists, especially as there is no charge to stand here. It's best to arrive as early as you can to get pictures without other people's hands on them!
Grauman's Chinese Theatre is on Hollywood Boulevard. The tour of the cinema runs at regular intervals every day and last around 30 minutes. Adult admission costs $12.50 with concessions for seniors and children (2010 prices).
LOCATION & CONTACT
Address: Grauman's Chinese Theatre, 6925 Hollywood Boulevard, Hollywood, CA 90028, USA
Tel: +1 323 464 6266
MORE ON GRAUMAN'S CHINESE THEATRE
Chinese Theatre – Official Website
Grauman's Chinese Theatre – Wikipedia
Hotels near Grauman's Chinese Theatre – Best price guarantee from Hotels.com
More Things To Do In Los Angeles
Books on Grauman's Chinese Theatre – Amazon.co.uk
Los Angeles City Guide – From our sister-site, Free-City-Guides.com