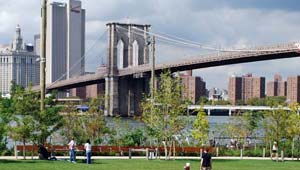 Brooklyn Bridge is one of the most familiar landmarks in New York and there are lots of places to get a great view of it. South Street Seaport and the Staten Island Ferry offer good views, but there's nothing quite like seeing it up close and walking right the way across it from City Hall on Manhattan Island to the small park in Brooklyn.
On a nice day it's another great way to see the NY skyline. We've done this at night too and we felt entirely safe. Walking over the bridge takes around 20 minutes to half an hour depending on how often you stop to take photos. There are two lanes marked by a white line down the middle of the path to indicate which direction to walk in, but be careful of cyclists who seem to get very annoyed if you got in their way! Walking across the bridge is free of charge.
As you're walking over it, bear in mind its history. The bridge was finished in 1883 and is one of the oldest suspension bridges in the United States.
Brooklyn Bridge has been used in many movies and TV shows over the years including Sex & The City when Steve and Miranda agree to meet in the middle of the Brooklyn Bridge walkway if they decide to give their relationship another go. There are emotional scenes when they see each other too!
There are many organised tours you can take that visit the bridge too including the Brooklyn Bridge Cycling Tour which consistently gets great reviews from other tourists.
LOCATION & MAP
Brooklyn Bridge, (access at) Centre Street, New York, NY 10038, USA

MORE ON BROOKLYN BRIDGE
Hotels near Brooklyn Bridge – We recommend Hotels.com
Brooklyn Bridge – Wikipedia
Brooklyn Walking Tour – A sample of life in and the history of Brooklyn
Brooklyn Bridge Park – Official website
Books on New York – Amazon.co.uk
More Things To Do In New York
New York City Guide – From our sister-site, Free-City-Guides.com