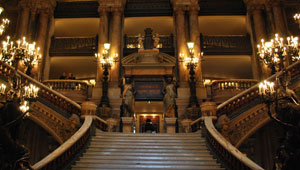 This stunning building is surrounded by a busy traffic on the outside, but you can take tours to see how amazing it is on the inside!
If you've ever seen the musical "Phantom of the Opera" you'll probably feel that you know this historic building already. Andrew Lloyd Webber's show and subsequent film were based on the opera house.
The official name of the building is the Palais Garnier, and inside it truly looks like a palace with incredibly ornate features. We were simply stunned at how beautiful it was. You are left to wander around the public areas at your leisure as there isn't a tour guide. Sometimes access to the actual auditorium is excluded from the tours so ask before buying your ticket.
When you visit the opera house, it's worth spending some time in the shopping district around it as this is where you'll find some of the most exclusive shops in Paris.
The Paris opera house is open daily from 10am to 5pm. Adult admission is 8 Euros with concessions available for students, Children under 10 are free (2010 prices). The Paris Hop-on, Hop-off Bus Tour stops at the Paris Opera.
Location and Contact
Address: Palais Garnier, Opéra National de Paris 1, place de l'Opéra, Paris 75009
Tel: +33 (0) 1 58 05 49 42
Tour Tel: +33 (0) 1 71 25 24 23
More on Opéra de Paris Garnier
Hotels near Opéra de Paris Garnier – Great deals from Hotels.com
Opera de Paris tours
Wikipedia – Opéra de Paris page
Paris Hop-on, Hop-off Bus Tour – Stops at Paris Opera
Paris Guide Books – Amazon.co.uk