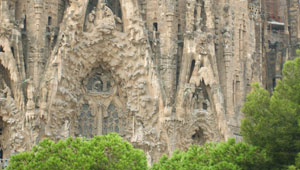 This is the ultimate attraction to see in Barcelona. The architect Antoni Gaudi started work on this grand church in 1882, but it still isn't finished. Much work has been done in recent years though as more money has been found to try and complete it. No trip to Barcelona would be complete without seeing this building's crazy curves and mosaic topped towers. There is often a queue to get in, but it's worth it. Inside, you'll find another queue and charge for the lift up the towers and this is usually a long wait. Make no mistake, the view from the top is stunning, but you have to weigh that against the time you have to wait to get in the lift. In peak times it's not unusual to be in line for 2 hours!
This building never fails to offer you something new every time you visit. This is partly because construction of the church is now continuing rapidly, but also because so much time has been spent on every intricate detail, from the stone carvings, to the doors, to the ceilings, to the towers and now to the stained glass too. We could spend all day wandering around, but theres no doubt that visiting Sagrada Familia is a much more pleasant activity when there are fewer tourists around. If you can, we'd recommed going out of season, on a quieter day like a Monday or be there first thing at 9am when it opens.
Open 9am – 6pm (october to March) and 9am – 8pm (April to September). Admission is 11 Euros per person, but children under 10 are free (2010 prices). There is an extra charge for the lifts up the towers. Nearest metro stop is Sagrada Familia but you can also use the Hop-on Hop-off Barcelona Tour to get here.
Location & Contact
Address: La Sagrada Familia, Calle Mallorca 401, 08034, Barcelona.
Tel: +32 902 101 212
More on the Sagrada Familia
Barcelona City Guide – From our sister site, Free-City-Guides.com
Sagrada Familia – Official website
Hop-on Hop-off Barcelona Tour – Stops at Sagrada Familia
Hotels near La Sagrada Familia – Best prices from Hotels.com
Sagrada Familia – Wikipedia
Books on Gaudi – Amazon.co.uk