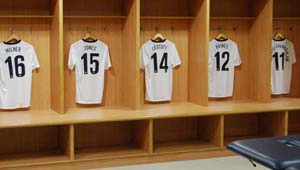 St George's Park is the English Football Association's training ground, located in the Staffordshire countryside near to Burton upon Trent. It was officially opened by the Duke and Duchess of Cambridge in 2012 and was completed after years of delays at a cost of over £100 million.
Although the complex is the National Football Centre and has 24 national teams that train here including the main England football team, it's also open to the public. There are two hotels on site which you can visit at any time and you are free to wander around the walkways on site too.
To access the FA training building though, you'll need to take the organised tours. The tour lasts around an hour and starts in the hotel reception. You'll see some of the conferencing facilities before walking over to the National Football Centre building. Inside, you'll see the England changing room, complete with replica shirts, you'll see the indoor Futsal hall, and the wall which has been signed by some of the greats of world football.
The big highlight though, is the full size indoor soccer pitch. It's an incredible sight to see and you're encouraged to feel the 'turf' which is a high-tech plastic mix and does feel like real grass. Alongside this is an indoor running track, which our tour party tried out! Outside, you will see the Wembley replica pitch which is exactly the same as the one at the London stadium.
Sadly, what you don't see is the hydro-therapy pools, the hospital and the gym which is used for rehabilitation of sports injuries. Considering that St George's Park prides itself on these facilities, it's odd that they don't show them off on the tour. The building was empty when we visited, so there wouldn't have been any privacy issues.
Our tour guide was a pleasant chap, although a little sexist with his comments about women, but we felt he needed more anecdotes of what life at the centre was like and stories about some of the famous people who have visited.
The tour of St George's Park only runs on a handful of days a month and costs £9 for adults. You can book by calling the number below.
LOCATION & CONTACT
Address: St George's Park, Newborough Road, Needwood, Burton upon Trent, Staffordshire, England DE13 9PD
Tel: +44 (0)1283 576200
MORE ON ST GEORGE'S PARK
St George's Park – Official Website
St George's Park – Wikipedia
More Things To Do In EnglandHotels in Staffordshire – We recommend Hotels.com for the lowest rates
Books on Staffordshire – Amazon.co.uk