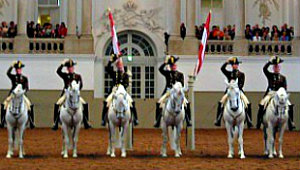 The Spanish Riding School in Vienna is world renowned for the skill of its riders and the intelligence of its horses. A visit here is a must for anyone with equestrian interests, but it generally comes at an impressive price. There is a cheaper option though!
The school uses Lipizzaner stallions and the horses look like they are dancing at times. The shows really demonstrate how superb the horsemanship is and they are all set to music. Shows take place on a regular basis and you will generally need to book in advance. There's no doubt that this is the best way to see the horses in action.
The cheaper alternative is attending one of the open training sessions (mostly available Tuesday to Saturday). These normally take place in the morning and you can stay as long as you want to watch the horses. Sometimes these sessions are also accompanied by music, but you won't get to see the full performances that the main shows give.
The architecture of the building is another star here, dating back to the 1730s, it has to be the most beautiful riding hall in the world! The Spanish Riding School building is actually part of the Hofburg and the stables and riding school here were the original Imperial Palace stables and school.
Guided Tours are also available which allow you to visit the stables. Both the tours and the exercise sessions are quite expensive, but much cheaper than going to a proper performance.
The Visitor Centre at the riding school is open Tuesday to Sunday from 9am to 4pm and on Fridays when there is a performance from 9am to 7pm. In May, June, September and October the Visitor Centre is also open on Mondays. Morning exercise training sessions usually take place between 9am and 12 noon and adult admission is 14 Euros (2012 prices). You cannot book for morning exercise. Guided tours last 1 hour and are 16 Euros (2012 prices).
Another way to see the Spanish Riding School is to take the popular Vienna Walking Tour which is a great introduction to the city and includes a brief visit.
LOCATION & CONTACT
Address: Spanish Riding School, Michaelerplatz 1, A-1010 Wien
Tel: +43 1 533 90 31
The Spanish Riding School is located between Michaelerplatz and Josefsplatz near the Hofburg in central Vienna.
MORE ON THE SPANISH RIDING SCHOOL
Hotels near the Spanish Riding School (Hofburg) – We recommend Hotels.com for the best rates
Vienna Walking Tour – Includes a brief visit to the Spanish Riding School
Spanish Riding School – Official Website
Spanish Riding School – Wikipedia
Vienna Guide Books – Amazon.co.uk
Vienna City Guide – From our sister site Free-City-Guides.com
More Things To Do In Vienna