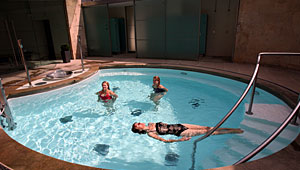 This is the modern way to enjoy the hot springs of Bath and it's a world away from the nearby Roman Baths. From the outside, the spa building design is impressive, blending a historic building in Bath City Centre with ultra modern glass panels. What you get inside, is a range of spa treatments and pool sessions.
It really is a truly relaxing, luxury experience. This kind of luxury experience has prices to match but we'd recommend the 4 hour spa session in the main building at twilight to get the most out of your visit. The New Royal Bath Spa is the building where new meets old, with the roof-top pool. The natural thermal waters are also fed into the Minerva Bath in this building and there are a collection of steam rooms and a Waterfall Shower too. You'll also find the Cafe and Restaurant here. Prices for spa sessions are £27 for 2 hours, £37 for 4 hours and £57 for a full day (2014 prices).
The Cross Bath is a smaller stand-alone bath with its own changing facilities located in a beautiful historic oval-shaped building across the road from the main structure. It's a cheaper alternative for soaking up the thermal waters with a 1½ hour spa session priced at £17.00 per person (2014 prices).
The Thermae Bath Spa is open all year round. There are different opening hours for the different pool locations. The New Royal Bath is open from 9am to 9.30pm daily (pools & steam rooms close at 9pm) and the Cross Bath is open from 10am to 8pm daily (last entry at 6pm).
Location and Contact
Address: Thermae Bath Spa, The Hetling Pump Room, Hot Bath Street, Bath, BA1 1SJ
Tel: +44 (0)1225 33 1234
Email: info@thermaebathspa.com
Thermae Bath Spa is right in the heart of Bath city centre on Bath Street, 200 yards from the towers of Bath Abbey. The Spa is featured on all the city's main signposts and waymarkers
More on the Thermae Spa
Bath City Guide – From our sister site, Free-City-Guides.com
Thermae Bath Spa – Official website
Hotels in Bath – Best prices from Hotels.com
Books on Bath – Amazon.co.uk