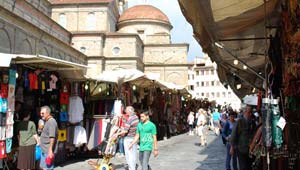 San Lorenzo market in Florence is a vibrant city centre market which lines the streets near the Basilica di San Lorenzo. Florence is known for its leather goods and you'll find plenty of leather merchandise available here along with scarves, clothes, souvenirs, ornaments, in fact pretty much anything you can think of.
There is a lovely atmosphere around this market too and if you were to stop at each stall you could easily spend an hour or two walking around it. In the heat of the midday sun, it's a great place to get some shade too!
If you do see something you like, don't just pay the asking price. It's normal to make a close offer instead and haggle a bit. Having said that, you will not get vast amounts knocked off prices here as there is already quite a bit of competition with other stall holders.
The market officially runs from 7.30am to 7pm daily (except Sundays) but as it takes the stallholders a long time to pack away their goods, it's normal to still find some of them there until around 9pm.
The market stretches around the Basilica di San Lorenzo, along Via dell'Ariento and down Via Rossina. On this street you'll also find the Indoor Food Market (Mercato Centrale) which you should not miss. It's a feast of colour for the eyes and the smells are great too!
LOCATION & CONTACT
Address: Mercato di San Lorenzo, Via dell'Ariento, 50123 Firenze, Italy
MORE ON SAN LORENZO STREET MARKET
Hotels near Mercato Centrale/San Lorenzo Market – Best price guarantee from Hotel.com
Cooking Course and Florence Market Visit – Highly rated tour
Florence Cooking Course
More Things To Do In Florence
Florence Guide Books – Amazon.co.uk
Florence City Guide – From our sister-site, Free-City-Guides.com