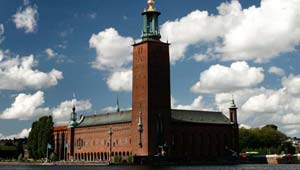 Visiting a city hall might not be the most obvious attraction to see when you're on holiday, but it's from the tower on this imposing building on the waters edge that you get a terrific view of Stockholm.
Aside from the view though, the building itself is interesting. It was constructed with 8 million bricks and is still the seat of power in Stockholm. Daily tours take place which will take you to see the areas where council business occurs, like the council chamber but you'll also see the impressive ceremonial halls – the Blue Hall and the Golden Hall.
There's a lot to see in both of these halls and they are both very eye-catching. You'll notice the mosaics in the Golden Hall are stunning, meanwhile when you're in the Blue H bear in mind that this is where the Nobel Banquet is held on December 10 every year.
After your visit, it's worth taking a walk in the small park (Stadshusparken) between the building and the lake. Here you'll find sculptures and more impressive views of Gamla Stan. We did this on a really cold winter's day and it was beautiful although we didn't stay outside for long!
You can only visit City Hall on the organised tours which take place hourly through the year. There are more tours in the summer months than in the winter months. Adult admission to the tours varies depending on the season too. From April to October it costs 90 SEK and from November to March it costs 60 SEK (2011 prices). Admission is free with the Stockholm Pass.
Admission to the City Hall tower is by separate ticket and is only available from May to September. The tower opens at 9.15am each day and groups are allowed up every 40 minutes. A lift is available half way to the top. You cannot book in advance for a future day as the ticket office only sells same day tickets. The ticket office opens at 9am. Adult ticklets cost 40 SEK (2011 prices). Once again, admission to the tower is free with the Stockholm Pass.
LOCATION & CONTACT
Address: Stadshuset (City Hall), Ragnar Östbergs Plan, 1 11220 Stockholm, Sweden
Tel: +46 (0)8 508 290 58 (Guided Tours)
The Yellow Route on the Stockholm Hop-on, Hop Off Tour stops at City Hall
MORE ON STOCKHOLM CITY HALL
Stockholm Pass – Free admission to Stockholm City Hall
City Hall – Official Website
Stockholm Hop-on, Hop Off Tour – Stops at City Hall
Stockholm Old Town Walking Tour – Recommended Tour
More Things To Do In Stockholm – The full list of tours and activities
Hotels near City Hall – Lowest Prices guaranteed at Hotels.com
Stockholm City Hall – Wikipedia
Stockholm City Guide – From our sister site, Free-City-Guides.com