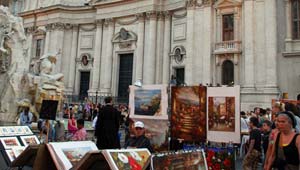 Piazza Navona in Rome is the heart of the city's social life. It doesn't seem to matter what time of day or night you visit, there'll always be people milling around and enjoying themselves. It has a lovely atmosphere and we loved just hanging around in the piazza.
There are usually lots of artists selling their paintings and the piazza is lined with restaurants and cafés, but the main draw is the lovely Bernini water fountain at the centre which was featured in Dan Brown's Angels & Demons book.
It's called Fontana dei Fiumi, which means fountains of the rivers, and it features symbolic representations of major world rivers like the Ganges and Nile clinging to a cliff face with sea monsters below. In Dan Brown book, it was the location where a cardinal was murdered, but in reality that could never have happened without anyone noticing as the piazza is so busy! There are two further fountains in the piazza which are also worth spending time enjoying.
We felt it could do with more places to sit down and soak up the atmosphere of the street musicians, but all in all, it's the one piazza you definitely should visit.
Piazza Navona is just off Via della Scrofa, and is only a 2 minute walk from the Pantheon.
LOCATION & MAP
Piazza Navona has several access passageways like Via Agonala, and it doesn't matter which you take as all offer a terrific perspective of the square when you enter.
MORE ON PIAZZA NAVONA
Hotels near Piazza Navona – We recommend Hotels.com
Ancient Rome Half Day Walking Tour – Stops at Piazza Navona
Angels & Demons Half Day Walking Tour – Includes Piazza Navona
Piazza Navona – Wikipedia
Rome Guide Books – Amazon.co.uk
Rome City Guide – From our sister site, Free-City-Guides.com
More Things To Do In Rome