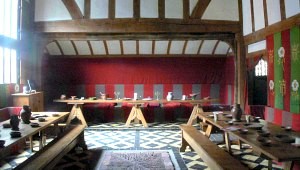 Barley Hall is a medieval town house nestled down a small alleyway in the centre of York, UK. It used to be the residence of the Mayor of York back in the time of Richard III, but its history became lost over the years that followed. The story of its re-discovery is the most amazing part of the exhibits you will see here.
In the 1980s, a developer applied for planing permission to turn what was then a collection run-down brick buildings into flats. The historical survey that followed revealed that the bricks were in fact not the original exterior of the building, but had been added later. As they were removed to see what was underneath, a significant oak-framed Tudor house emerged.
Here's the bit we liked the most. Did you know it is possible to work out when fires in a fireplace were last lit by analysing the bricks around it? This process was used in the fireplaces that were uncovered in Barley Hall with the conclusion that they were most active in the 1400s.
Today, the house has been restored to how it would have looked in the times of William Snawsell, the Mayor of York, with a few modern additions like heated walls! The exhibits inside are mainly about medieval life. It's all very well done, but the building is the real star here.
The most striking room is the double-height Great Hall, with its huge dining tables. You'll often find school children here on organised visits, learning about Tudor times. Look out also for the impressive oak roof structure in the Great Chamber upstairs.
Barley Hall is open 7 days a week from 10am to 4pm in the summer and from 10am to 3pm in the winter. Adult admission is £6 (2015 prices).
LOCATION & CONTACT
Address: Barley Hall, 2 Coffee Yard, York YO1 8NR
Tel: +44 1904 610275
MORE ON BARLEY HALL
Barley Hall – Official website
Barley Hall – Wikipedia
Hop-on, Hop-off Bus Tour – Stops at major locations in York
VisitYork.org – Official York Tourism Website
York Pass – Free entry to York's attractions
York Hotels – We recommend Hotels.com with their lowest price guarantee
York Insight Guide – Amazon.co.uk
York City Guide – From our sister site, Free-City-Guides.com