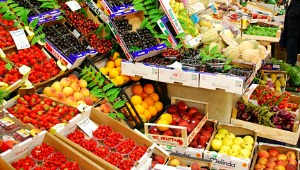 Central Market (Mercato Centrale) is an indoor food market in Florence and in recent years it has become one of the city's most visited tourist attractions. From the outside, this building looks somewhat out of place in Florence, but as soon as you enter, the sights an smells feel as normal as visiting the Duomo.
Tuscany is renowned for its food of course and the market is packed with specialist outlets selling the best in Italian meats, cheeses, olives, vegetables, fruits and spices. You won't go hungry either because there are lots of free samples on offer too!
We loved the smells, the atmosphere and especially the obvious pride that the stall-holders have in their produce and walking around makes you wish you had a kitchen in your hotel room!! Most stalls will wrap things for you to take away.
The central market is open Monday to Saturday from from 7am till 2pm. Some stalls are also open on Saturday afternoon. The best time to go is before 10am because at peak times of the day, the crowds start to clog up the aisles.
The outdoor San Lorenzo Street Market is worth visiting too which lines the streets surrounding the central market. Here you'll find leather goods, clothes and souveniers.
If you love cooking you may well enjoy the Cooking Course and Florence Market Visit tour which consistently gets good reviews from people who've been on it.
LOCATION & CONTACT
Address: Mercato Centrale, Via dell'Ariento, 50123 Firenze, Italy
MORE ON THE FLORENCE CENTRAL MARKET
Hotels near Mercato Centrale/San Lorenzo Market – We recommend Hotel.com for great prices
Cooking Course and Florence Market Visit – Highly rated tour
Florence Cooking Course
More Things To Do In Florenc
Florence Guide Books – Amazon.co.uk