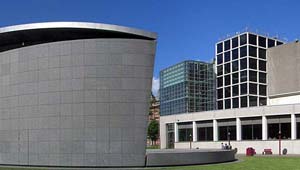 The Van Gogh Museum in Amsterdam Holland contains more than 200 Van Gogh's spread over two buildings. If you like his paintings, you'll very much enjoy a trip here but think carefully about when to go. It's best to pick a quiet time because when it's busy, it's sometimes hard to see the paintings above the heads of the people in front of you. You may also find yourself in a queue to get in at busy periods although this is partly because there is quite a bit of security to go through before you can even buy your ticket.
Once you get inside, there is a really impressive atrium style to the first building with staircases leading to the various levels. There is also an underground link connecting the two main structures and we found the second building to be a lot quieter. The architecture is fascinating, especially how the two buildings have been joined together.
You'll need to allow plenty of time for your visit and there's a lot of exhibition space. We'd recommend you allow a couple of hours and more if you plan to spend time in the cafe too!
The Van Gogh Museum is near two other museums on the Museumplein. The entrance is at Paulus Potterstraat 7. It's open daily from 10am to 6pm. Adult admission is 14 Euros (2011 prices) although admission is free with the Iamsterdam Card.
LOCATION & CONTACT
Address: Van Gogh Museum, P.O. Box 75366, 1070 AJ Amsterdam, The Netherlands
Tel: +31 (0)20 570 5200
Email: info@vangoghmuseum.nl
The Van Gogh Museum is on Museumplein in Amsterdam, between the Rijksmuseum and the Stedelijk Museum. From Central Station in Amsterdam, take tram 2 towards Nieuw Sloten or tram 5 towards Amstelveen Binnenhof and get off at the Van Baerlestraat stop. The Amsterdam Hop-on Hop-off Canal Bus also stops nearby and there is a combined 'skip the line' ticket available for both the Van Gogh Museum and the Canal Bus – see the links below .
MORE ON THE VAN GOGH MUSEUM
More Things To Do In Amsterdam
Van Gogh Museum – Official website
Van Gogh Museum plus Canal Bus – Joint ticket discount
Hop-on Hop-off Canal Bus – stops near the Van Gogh Museum
Hotels near the Van Gogh Museum – Lowest price guarantee from Hotels.com
Amsterdam Guide Books – Amazon.co.uk
Amsterdam City Guide – From our sister site, Free-City-Guides.com