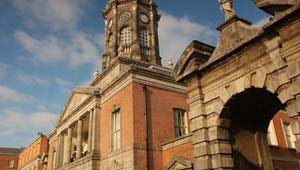 Dublin Castle is one of the legacies of British rule in Ireland and it consists of a conglomeration of buildings from various different points in time. The highlight of a visit to this tourist attraction is the luxurious State Apartments which were home to the British appointed Viceroys. The gold-decorated Throne Room in particular is beautiful and St Patrick's Hall too, which is the castle's largest function room.
There's plenty more to explore though, including the prominent feature of the circular Record Tower which dates back to 1226. Emphasising the range of ages of buildings here, the chapel bolted on to it was completed in 1814. All in all, it's a fascinating journey through time and we loved it. It's also worth popping into the Garda Police Museum which is located here to see some of the artefacts from policing over the years and read more about the history of the police in Ireland.
Dublin Castle is open to the public Monday to Saturday 10am to 4.45pm and Sunday 12pm to 4.45pm. Access to the State Apartments and Medievel Undercroft is by guided tour only. Adult tours cost 4.50 Euros although there is free access to the castle on the first Wednesday of every month (2011 prices). The Garda Police Museum is free of charge. Dublin Castle is just off Dame Street.
LOCATION, DIRECTIONS & CONTACT
Address: Dublin Castle, Dame Street, Dublin 2, Ireland
Tel: + 353 1 677 7129
Dublin Castle is situated in the very heart of Dublin City, on the south side of the River Liffey, off Dame Street, en route from Trinity College to Christchurch Cathedral. The Dublin Hop-on, Hop-off Bus Tour stops near Dublin Castle too.
MORE ON DUBLIN CASTLE
Dublin Castle – Wikipedia
Dublin Historical Walking Tour – More on Dublin's history
Dublin Castle – Official Website
Dublin Hop-on, Hop-off Bus Tour – Stops near to Dublin Castle
Hotels near Dublin Castle – Lowest price guarantee from Hotels.com