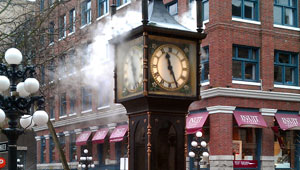 Gastown is a historic neighbourhood of Vancouver at the north east end of downtown Vancouver. It's the citys oldest neighbourhood and is a dramatic contrast to the modern skyscape of downtown Vancouver. Its Victorian style buildings contain some of the coolest and trendiest places in Vancouver. Home to some high end shopping combined with tourist shops, it's just a real cool place to hang out.
In the centre of Gastown is Raymond Saunders' first steam clock. Built in 1977 as a new tourist attraction to boost a then newly refurbished Gastown local economy. The clock works by using a steam engine and electric motors, the clock displays the time on four faces and announces the quarter hours with a whistle chime that plays the Westminster Quarters.
Along the main street of Gastown are a number of bars, clubs and restaurants. We had an excellent meal at the Water St Cafe on the corner of Cambie Street. Placed looking over the steam clock the restaurant is a good place to eat excellent food and watch the world go by. http://www.waterstreetcafevancouver.ca/
Nearby is Steamworks Brewing Co bar and restaurant, another good place to grab some drinks. It offers a wide variety of food and drink combined with some excellent service.
Gastown was made a national historic site in 2009 and to walk around the neighbourhood is a real treat, the streets are lit extremely well with and it feel like an extremely safe place to be.
LOCATION & CONTACT
Getting to Gastown is simple if you take public transport or the Vancouver Hop-on, Hop-off Bus Tour which stops here. The Gastown Business Improvement Society deals with tourism enquires:
Address: Gastown, c/o 332 Water Street, Vancouver, BC V6B 1B6, Canada
Tel: +1 604 683 5650
MORE ON GASTOWN
Gastown – Official Website
Gastown – Wikipedia
Vancouver Hop-on, Hop-off Bus Tour – Stops at the Steam Clock in Gastown
Vancouver City Tour – Stops at Gastown
Vancouver City Sightseeing Tour – Includes Gastown
More Things To Do In Vancouver
Hotels near Gastown – Lowest prices from Hotels.com