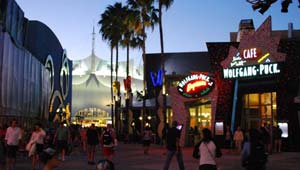 Downtown Disney is a collection of restaurants, experiences and shops lining a long walkway on the edge of a lake. It really comes alive at night when the atmosphere is brilliant and it's pretty normal to find street entertainers offering music and comedy. There's also a Cirque de Soleil theatre here presenting a show called La Nouba and a cinema.
Don't underestimate how big this place is. It will take you up to half an hour just to walk from one end to the other. The site is quite linear, so look out for the free boat service that links the two ends by taking you across the lake.
The main experience here is a huge balloon which raises groups of people up to the sky. It's officially called "Characters in Flight" and is a new-look design. The old one was removed and inspected after an accident with a similar balloon in Hong Kong.  If you wish to ride, the balloon operates from 8.30am to midnight daily with adult tickets costing $18 and children $12. If you get up early, then there is an early-bird offer before 10.30am of $10 per person (2013 prices). When we were there, the balloon did not fly because the weather was too windy. Other experiences at Downtown Disney include Splitsville Luxury Lanes, a new bowling and dining experience and DisneyQuest which consists of 5 floors of games and experiences.
There are lots of eating options at Downtown Disney. We can recommend the House of Blues which has its own concert venue next door and serves decent traditional American food. The other place we ate was Planet Hollywood which is more about the movie memorabilia than the food to be honest. Even if you don't want to eat there, you can still see one of the boats used in the film Forrest Gump moored outside. Other restaurants at Downtown Disney include the Rainforest Cafe, T-Rex Cafe, Fulton's Crab House, Wolfgang Puck, Raglan Road Irish Pub, Portobello, Paradiso 37 (a taste of North & South America) and Bongos Cuban Cafe. There are also plenty of snack-type eateries if you don't want a full meal too and don't forget to pop into Ghirardelli's shop for a free chocolate sample!
Most stores and experiences at Downtown Disney operate from 9.30am to 11pm or midnight.  If you want to go to the nearby Disney parks, see the various ticket options with latest prices
LOCATION & CONTACT
Address: Downtown Disney, 1780 Beuna Vista Drive, Orlando, Florida 32830, USA
Tel: +1 407 939 7000
Downtown Disney is sign posted on the main entrance roads for Walt Disney World and also from the I-4.
MORE ON DOWNTOWN DISNEY
Walt Disney World Tickets – See best prices in GB pounds
Downtown Disney Orlando – Official Website
Downtown Disney – Wikipedia
More Things To Do In Orlando
Orlando Hotels – We recommend Hotels.com for the best service and prices
Orlando Guide Books – Amazon.co.uk
Orlando City Guide – From our sister-site, Free-City-Guides.com