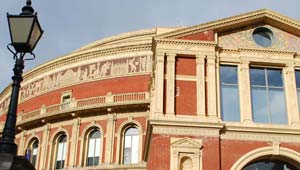 The Royal Albert Hall is a working theatre and concert hall but is also an attraction in its own right. It was named after Queen Victoria's husband Prince Albert, who originally had the idea to create a multi purpose venue which could hold everything from orchestras to a circus. Sadly though, he never saw his vision realised.
The building is circular in shape and it's simplicity in design is partly what makes it so attractive to look at. It's when you go inside, that you can really see what at a masterpiece it is. The best way to experience the Royal Albert Hall is to book a ticket for a show. These are usually quite expensive and depending on the show, hard to come by.
Another option for seeing inside is to take one of the regular guided tours. We enjoyed our tour and thought it gave a fascinating insight into the building and its history. However, you need to bear in mind that it is not a "behind the scenes" tour and instead it mainly focuses on the public areas of the hall that you would see anyway if you had a ticket for a show. The one exception is that you do get to stand in the private Royal reception room! The Royal Albert Hall does occasionally offer a "backstage" tour which does go behind-the-scenes but these are rare.
The Royal Albert Hall tour runs every day except Wednesdays from 10.30am to 3.30pm. Sometimes tours are cancelled because of matinees, so check with the hall which tours are running when you want to go and it's advisable to book advance. Adult tours are £11 (2012 prices) but the tour is free with the London Pass.
LOCATION & CONTACT
Address: Royal Albert Hall, Kensington Gore, London SW7 2AP
Tel: 0845 401 5045 (in the UK)
Getting to the Royal Albert Hall by tube involves a 15 minute walk. The nearest stop is South Kensington and then follow the signs on foot.
MORE ON THE ROYAL ALBERT HALL
Royal Albert Hall – Official Website
Royal Albert Hall – Wikipedia
London Pass – Includes free entry to the Royal Albert Hall
Hotels near the Royal Albert Hall – We recommed Hotels.com for the best rates
Books on the Royal Albert Hall – Amazon.co.uk
London City Guide – From our sister site, Free-City-Guides.com
London Tourist Attractions – More of our reviews
More Things To Do In London