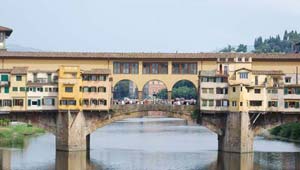 Ponte Vecchio, which means Old Bridge, is the world's most famous shop-lined bridge. It's a Mecca of activity day and night in Florence and although it won't take you long to walk across it, make sure you pause in the middle to enjoy the view up and down the river. The bridge spans the river Arno at its narrowest point and it's believed that there has been a bridge of some sort in this location since Roman times.
This bridge dates back to 1354, and was originally the home to the butcher's shops of Florence. Over time though, these have been replaced with the jewellers and gift stores that you see today. One thing to look out for on the bridge is the windows of the Vasari Corridor above the shops.
This corridor was built to run from the Old Palace to the new Pitti Palace and it's said that the ruling Medici at the time couldn't stand the smell when he was using the bridge.
We thought the bridge was charming and we really liked the hustle and bustle. Having said that, it's important to keep your eye on your valuables because pick-pockets have been known to frequent it. There are usually municipal police officers around to keep them away though. We really liked the bridge, but if you're not planning to go into the shops, you're not likely to spend very long here. Your visit will probably last only a few minutes to walk from one side to the other and take a few photos.
Look out in the vicinity of the bridge for the recent craze of attaching padlocks to railings and chain fences. Lovers leave the locks as a sign of their bond for each other, often throwing the keys into the river and etching their initials on the locks. This practice is a constant source of irritation to the authorities though, who have to remove them from time to time. There are even signs warning of a fine if you're caught doing it!
If you want to see the bridge on a tour, consider the Skip The Line Florence Walking Tour which calls in at Ponte Vecchio and consistently gets good reviews from other travellers.
LOCATION & MAP
Address: Ponte Vecchio, 50125 Florence, Tuscany, Italy.
MORE ON PONTE VECCHIO
More Things To Do In Florence
Hotels near Ponte Vecchio – We recommend Hotels.com for the best prices
Hotel L'Orologio – Take a look at our recommended hotel in Florence
Ponte Vecchio – Wikipedia
Vasari Corridor Access – Private access on the tour of the Uffizi Gallery
Florence Walking Tour – Calls in at Ponte Vecchio
Florence Guide Books – Amazon.co.uk
Florence City Guide – From our sister site, Free-City-Guides.com