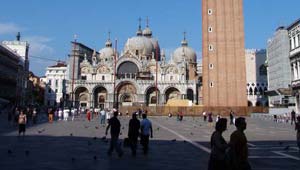 St Mark's Square is one of the best known public spaces in the world. It's the place where Venetians come to watch the world go by, although almost everyone you see is a tourist!
At some points in the day, the square gets so busy that you can hardly move around it, but there's always a lovely atmosphere with street entertainers, and musical performers at the various cafés. If you do choose to sit down for a drink, bear in mind that coffee here is extortionate! Almost everywhere in Venice is beautiful, so there are plenty of cheaper places away from the square to sit and admire the city.
Although it's very busy during the day, it takes on a totally different feeling at night when most of the coach tourists have gone home. If you find it oppressive in the day, we'd recommend returning any time from 6pm onwards and it almost feels like it's your personal space. We sat on the steps here at 11pm one night and it was lovely and peaceful and the live music was still being played.
Some of Venice's most important landmarks are located in St Mark's Square. The Campanile (bell tower) is known throughout the world and you can climb it for a small fee and the Doge's Palace is stunning and is well worth a visit. Top of the list though, is St Mark's Basilica which is one of the most remarkable churches in the world.
If you want to get a feel for the history of the square, consider taking the St Marks's Square Highlights Tour which puts it all into perspective and includes "Skip the Line" admission to the Basilica.
One other point to mention, there is often flooding in St Mark's Square so be prepared to walk along the walkways which are put down for you if this happens.
LOCATION & MAP
Address: St Mark's Square (Piazza San Marco), 31024 Venice, Italy.
The square is on the southern edge of Venice island near the entrance to the Grand Canal and has its own Vaporetto water bus stop. It's home to St Mark's Basilica, the Doge's Palace (Palazzo Ducale) and the huge, orange campanile bell tower.
MORE ON ST MARK'S SQUARE
St Marks's Square Tour – Gets great reviews
Hotels near St Mark's Square – Guaranteed lowest rates from Hotels.com
St Mark's Square – Wikipedia
Venice Guide Books – Amazon.co.uk
More Things To Do In Venice