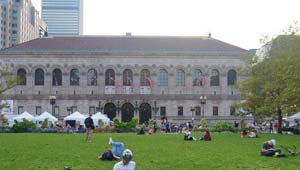 Copley Square is a large public square in the Back Bay area of Boston, Massachusetts with a mixture of paving and grassed areas. It is dominated by a number of impressive buildings and is a lovely place to spend some time. We felt it had a really friendly and relaxed atmosphere. The most notable building in Copley Square is Trinity Church which was completed in 1877 and has played host to several large events over the years due to its central location and size. Trinity Church offers guided and self-guided tours Monday to Saturday from 9am to 5pm and on Sundays from 1pm to 6pm.  The guided tours run at variable times and you can see the latest tour time list on the website or you can call the church on +1 617 536 0944 to confirm times.
Also here, you'll find the Boston Public Library building which was completed in 1895 and looks like a sort of "cathedral for books". It really is a very grand structure and was designed to resemble a basilica or church.
Towering above the square, is the much more modern John Hancock Tower, which is like a huge mirror, reflecting some of the older buildings.
Nearby you'll find the huge Copley Place shopping mall which has dozens of shops, a large food court and department stores too. Another building on Copley Square of note is the Old South Church completed in 1875 with its huge tower.
Copley Square is also the finish line for the Boston Marathon which is why you'll find the "Tortoise and the Hare" sculpture here. The artist, Nancy Schon, wanted to have something that would appeal to children as well as be significant for the race.
LOCATION & MAP
Copley Square is on Boyleston Street at the junction with Clarendon Street.  The nearest T station is "Copley" which is underneath the library building.
MORE ON COPLEY SQUARE
Hotels near Copley Square – We recommend Hotels.com for the best prices and service
Copley Sqaure – Wikipedia
Trinity Church – Official website
Old South Church – Official website
Boston Guide Books – Amazon.co.uk
Boston City Guide – From our sister site, Free-City-Guides.com
More Things To Do In Boston