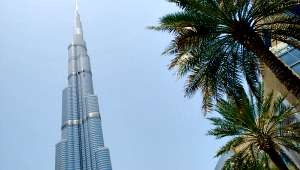 Burj Khalifa in Dubai is the world's tallest building. The rocket-shaped structure took 6 years to build and was completed in 2010. It's so big, that you'll struggle to get it all in on one photo! It has 160 floors and reaches up 828 metres. You can see it for free by looking up from the ground near Dubai Mall, with the fountains around you, but the best experience is to pay to go to the top and look down.
Be warned, the 'At The Top' experience books up fast! You'll probably need to book your place a couple of weeks before you arrive in Dubai, or longer if you want a specific time slot. The booking desk is inside the Dubai Mall and is signed everywhere. If you haven't booked in advance, you can usually still go up the tower, but you'll have to pay a hefty premium because usually only the special 'Fast Track' tickets are left. They'll cost you in the region of 400 Dirhams, so they're very expensive.
When you arrive with your booking, you check in at the front desk and there is often a small line of people here – most of them trying to buy a last minute ticket! Before you go up the tower, you get to see a short video about how the tower was built. You then follow a walkway which links Dubai Mall to the tower and head up to the viewing gallery. Despite the name 'At The Top', Observation Deck is actually on the 124th floor, but it's still an incredible view. You can visit the 148th floor with a 'SKY' ticket, but they're not cheap and the view isn't actually much different.
On the whole, we thought the tower was well worth visiting. We enjoyed our experience and it's likely to be one of the highlights of your trip to Dubai. The Observation Deck is large and the limited numbers are a good thing because it's never too crowded. Plan ahead and book though, to get an affordable experience.
General adult admission to the Burj Khalifa At The Top attraction is 125 Dirhams. Prices rise to 200 Dirhams if you want to go up the tower at peak times from 5.30pm to 7pm (2015 prices). The topwer is open from 8.30am to midnight daily. Audio guides cost 25 Dirhams, although we thought the sign boards were sufficient. You can buy your ticket in advance in GB Pounds here…
Burj Khalifa Tickets
LOCATION & CONTACT
Address: Burj Khalifa, 1 Sheikh Mohammed bin Rashid Boulevard, Dubai, United Arab Emirates
Tel: +971 4 888 8888
The entrance to the At The Top observation deck is within Dubai Mall which has its own stop on the Dubai Metro and a covered air-conditioned walkway from the metro station.
MORE ON BURJ KHALIFA
Burj Khalifa Tickets
Burj Khalifa "At The Top" – Official Website
Burj Khalifa – Wikipedia
More Things To Do In Dubai
Dubai Hotels – Latest offers from Hotels.com with customer reviews
Dubai Guide Books – Amazon.co.uk
Dubai City Guide – From our sister-site, Free-City-Guides.com