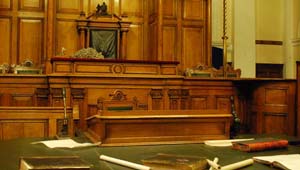 The Justice Museum in Nottingham is a museum of crime and punishment which is based in the former courthouse and county gaol. The building is packed with history and your tour will include the perfectly preserved court room, which was still being used a couple of decades ago. Your tour then continues as you follow the steps of condemned men, from the dock, down to the former prison cells below.
Hangings took place in the rear courtyard which is also on the tour, as are the older cells below that. You basically work your way down the building from street level when you enter. This is possible, because the museum is constructed on the edge of a rocky outcrop.
If you book onto an actor-led tour, you're in for a treat! The cast play the various roles with relish which adds something extra to your visit. Children in particular will enjoy the Galleries of Justice, but there is something for people of all ages here. There are a variety of tours and exhibitions at the Galleries of Justice on different days…
The Sheriff of Nottingham Tour – The sheriff puts Robin Hood on trial, before heading to the cells below. Adult admission is £9.50 (2013 prices)
The Crime and Punishment Tour – You find out about the conditions prisoners were kept in and why their treatment led the gaol to finally close. Adult admission is £9.50 (2013 prices)
The Facts and Felons Audio Tour – Explore the entire building and its gruesome history. Available Mondays & Tuesdays (except school holidays). Adult admission is £9.50 (2013 prices).
The Ghosts Tour – You explore some of the spooky unexplained goings on reported recently following in the footsteps of the Most Haunted TV show. Available on the first Wednesday evening of the month. Booking and prices on 0115 952 0555
The Galleries of Justice is in Nottingham's historic Lace Market on High Pavement, opposite the Lace Market Hotel. The attraction is open daily from 10.30am to 5pm with additional evening tours on some days.
LOCATION & CONTACT
Address: National Justice Museum, The Lace Market, Nottingham NG1 1HN
Tel: +44 (0) 115 952 0555
Email: info@galleriesofjustice.org.uk
MORE ON THE NATIONAL JUSTICE MUSEUM
National Justice Museum – Official Website
National Justice Museum – Wikipedia
Books on Nottingham – Amazon.co.uk
Nottingham City Guide – From our sister site, Free-City-Guides.com