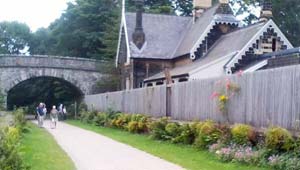 Monsal Trail is a former railway line which has been turned into a leisure route for cyclists, horse riders and walkers. As a railway line, it was a stretch of the Midland Railway which closed in 1968 and ran from the historic Derbyshire town of Bakewell to Wyedale near Buxton. This Peak District route is made extra special by the bridges and tunnels that form part of it. They were restored at a cost of several million pounds to turn the route into a viable leisure path.
There are lots of highlights to look out for along the 8.5 miles (13.7 km) route including one of the most picturesque viaducts in the Peak District, Monsal Head. For the best view, you'll need to climb the footpath that leads from the trail up to the pub at the top. Other highlights include the magnificent and lengthy Headstone Tunnel, Great Longstone Station and Miller's Dale viaduct.
Every so often, along the route, you'll find audio information consoles which are powered by a wind-up handle. When you wind them, you will hear people telling their stories of life on the old railway. Don't just walk or cycle past them as they are well worth a listen.
There are several other footpaths that lead to and from the trail along its route, many heading to nearby villages. There's one to Little Longstone for example which cuts across the fields from the railway line to the village main road. Another footpath worth taking is the one from Monsal Head to the Wye valley underneath the Monsal Viaduct.
If you struggle to get your kids interested in cycling or walking, we think this trail is a great way to increases their enthusiasm because it feels a bit like being on an exploring adventure when you're on the trail. On busy days in the summer, there are loads of families out using the trail. Best of all it's free to use.
LOCATION & CONTACT
The Monsal Trail is operated by the Peak District National Park Authority:
Address: Peak District National Park Authority, Aldern House, Baslow Road, Bakewell, Derbyshire, DE45 1AE
Tel: +44 1629 816200
There are small car parks near to many of the Monsal Trail's landmarks including Bakewell Station, Hassop Station & Miller's Dale. You can also use the pay and display car parks in Bakewell and take the 15 minute walk to the start of the trail. The map below shows the trail at Monsal Dale:
MORE ON THE MONSAL TRAIL
Monsal Trail – Peak Park website
Monsal Trail – Wikipedia
More Things To Do In The North Of England
Hotels in Derbyshire – We recommend Hotels.com for the lowest rates
Books on Derbyshire – Amazon.co.uk
Bakewell – Our Review of the famous town nearby