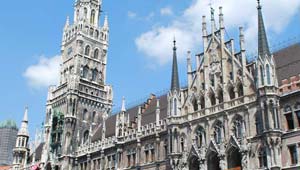 Marienplatz is an attractive paved square in the centre of Munich which forms the hub of the city's café culture. It's is well liked by locals and tourists for its architecture and its atmosphere. The City Hall (Rathaus) is located one side of the square and houses the famous Munich Glockenspiel. There's always a bit of a crowd that gathers for its performances every day at 11am with extra ones in the summer at 12pm and 5pm. The clock acts out two stories with bells and characters and is worth watching if you're in the square at the time.
There's a significant landmark in the middle of Marienplatz too. Marien Column (Mariensäule) was erected in the 1600s to mark the end of Swedish occupation. There is a gold statue on the top of the Virgin Mary.
Another highlight in the square is the reconstruction of the old Gothic Town Hall. The original building was constructed in 1480 but was destroyed in the second world war and this replica is an impressive turreted sight on the east side of the square.
Next door to Marienplatz is Munich's huge produce market. Even if you're not planning to buy anything, it's a lovely place to stroll around to take in the sights and smells of cheeses, sausages, fruit and olives. There's also a popular beer garden in the centre of the market.
LOCATION & MAP
Marienplatz joins onto Karlsplatz in Munich city centre and is next to the Viktualienmarkt. Nearby attractions are the Frauenkirche and St Peter's church tower. The square has its own U-bahn/S-bahn station. The Munich Hop-on Hop-off Bus Tour stops here too.
MORE ON MARIENPLATZ
More Things To Do In Munich
Hotels near Marienplatz – Great rates from Hotels.com
Munich Bike Tour – Includes a stop at Marienplatz
Munich Hop-on Hop-off Bus Tour – Stops at Marienplatz
Marienplatz – Wikipedia
Munich City Guide – From our sister site, Free-City-Guides.com
Munich Guide Books – Amazon.co.uk