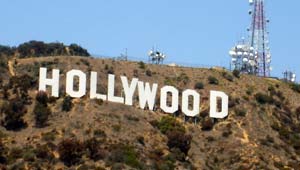 Erected in 1923, the Hollywood Sign is one of those tourist attractions everyone wants to see, but it isn't actually open to the public and you can't actually get to it. Instead, you'll have to settle for hiking on foot or in our case, we simply wanted a photo as close as we could get in a car. We think the closest place to get to in a car is Canyon Lake Drive which is near the Hollywood Reservoir.
The route to take is not publicised to avoid annoyance to neighbours, so if you follow these directions, please be courteous to those who live nearby. To get to the location we used to take the photos on this page, followBarnham Boulevard from the 101 to Lake Hollywood Drive. Turn right and follow the road as it goes around the reservoir. Turn left at Tahoe and then right on to Canyon Lake Drive. When you see a Dog Park, you'll know you're in the right place. Be sure to obey the parking restrictions as they are regularly enforced. You'll also get great views of Hollywood Reservoir from this location too.
You don't have to go to residential areas to see the sign because it can also be seen in a number of other nearby locations including the Griffith Park Observatory. It's also visible from parts of the Walk of Fame on Hollywood Blvd but is easier to see from the highest bits of the shopping complex around the Kodak Theater.
If you don't want to drive to the sign yourself, there are a number of options for seeing it on organised tours like the Best Of Los Angeles Grand Tour and even the Los Angeles VIP Helicopter Tour.
Location and contact
Address: Hollywood Sign, Los Angeles, CA United States
Tel: +1 (323) 258-4338
More on the Hollywood Sign
Hollywood Sign – Official Website
Hollywood Sign – Wikipedia
Best Of Los Angeles Grand Tour – Includes the Hollywood Sign
Los Angeles VIP Helicopter Tour – Flies over the Hollywood Sign
Los Angeles City Guide – From our sister site, Free-City-Guides.com
Hotels in Hollywood – Best price guarantee from Hotels.com
Books on the Hollywood Sign – Amazon.co.uk