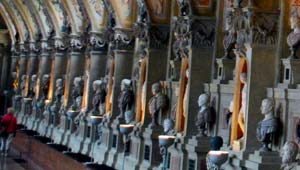 The Residenz was the Munich home of the Bavarian royals for hundreds of years and from the outside it looks a rather sober building, but the true magic is inside.
Over the years, each King left his mark on the Residenz, added wings and courtyards to the building. There are some really stunning rooms and hallways to see. Top of the list is the amazing 'Antiquarium' which is a long hall with statues on every surface and beautifully painted ceilings. Also look out for the large private chapel, the ornate picture gallery and a bizarre room full of religious relics.
Not all of the building is original as some of the rooms were destroyed in the Second World War and have been restored, but there are still plenty of original features to see. You can also see the Monarch's jewels in the Treasury (separate fee). When you take the tour, make sure you pick up your free audio guide because the guide station is easy to miss and we got to the second room before we realised everyone else had one!
The Royal Residenz is in the heart of Munich city centre near Odeonplatz. The Residenz Museum is open daily in the summer from 9am to 6pm and in the winter from 10am to 5pm. Adult admission to the Residenz is 6 Euros with concessions at 7 Euros (2012 prices), children are free. Separate admission prices are charged for visiting the Treasury and the Theatre. We thought the basic admission price was very good value for money with lots of rooms to see inside. We have visited many palaces around Europe where the ticket price was a lot more and you actually saw a lot less. There are a number of special events you can book at the Residenz. For example, the Residenz Concert with Beer Tasting gets great reviews.
Location & Contact
Address: Verwaltung der Residenz München, Residenzstraße 1, 80333 München
Tel: +49 (0) 89 2 90 671
E-mail: ResidenzMuenchen@bsv.bayern.de
More on the Munich Royal Residence
Munich Hop-on, Hop-off Bus Tour – Stops at the Munich Residenz
Hotels near the Munich Royal Residence – Great rates from Hotels.com
Royal Residenz – Official Website
Munich Royal Residence – Wikipedia
Munich City Guide – From our sister site, Free-City-Guides.com
More Things To Do In Munich
Munich Guide Books – Amazon.co.uk