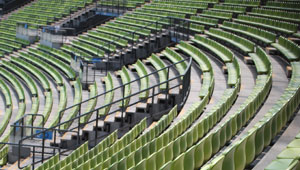 Munich held the Olympic Games in 1972 and the resulting Olympic Park is beautiful. The green hills with their walkways surround a pretty lake area with the huge Olympic Tower visible wherever you are. You can take a trip up the lift in the tower for a distant view of Munich's skyline. The highlight for us though, was the Olympic Stadium with its incredible undulating glass roof. The design is every bit as contemporary today as it was when it was built. Admission is just 2 Euros and you can wander pretty much everywhere. For an extra thrill, pay for one of the guided walks along the roof top! Sadly, the stadium is no longer used regularly with the two Munich teams now playing at the Allianz Arena, but it is still a home for concerts and other sports.
Apart from the stadium and the tower, the other two main buildings in the park are the swimming complex and the sports hall complex. Both these buildings have similar distinctive roof lines. The Olympic swimming pool is open to the public for swimming and there is an observation area too. The sports hall is now used for conferences and concerts and is usually closed to the general public. The stadium is open to tourists daily from 8.30am until 6pm (or later) in the summer and from 9am until 4.30pm in the winter. Admission is 2 Euros for adults and you get a leaflet to guide you. The Roof Climb is a full guided tour lasting 2 hours and it costs 39 Euros per adult (2010 prices). This price rises if you include abseiling from the roof top or the 'flying fox' slide.
Also in the Olympic Park, don't miss the 'walk of fame' by the lake with the hand prints of the some of the world's best known performers. U-Bahn line U3 takes you to the Olympic park.
Location & Contact
Address: Olympiapark München GmbH, Spiridon-Louis-Ring 21, D-80809, München
Tel: +49 (0) 89 30 67-0
E-Mail: info@olympiapark.de
More on Munich Olympic Park
Munich City Guide – From our sister site, Free-City-Guides.com
Hotels near Munich Olympic Park – Great rates from Hotels.com
Munich Olympic Park – Official Website
Munich Hop-on Hop-off Bus Tour – Stops at the Olympic Park
Wikipedia – Olympic Park page
Munich Guide Books – Amazon.co.uk