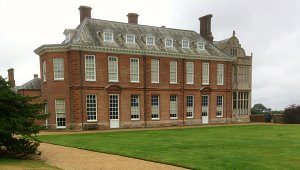 Felbrigg Hall in Norfolk, England is a stately home packed with lived-in charm which is operated by the National Trust. The current house dates back to 1620 but has been greatly added to over the years. A number of interesting characters have lived in the hall and you get to learn about them during your visit.
Entrance to the house is through an admission building which then gives you access to walk along the frontage of the house to the main door. Each room is explained on sign boards and via an information leaflet that you are given. You start in the Morning Room and there's an introduction here to the people who lived in the hall as their portraits are on the wall. You will see large parts of the house on your tour.
Particular highlights are the Great Hall, where the last owner did most of his work at the giant desk, the Library and the Kitchen. You also see bedrooms, the dining room, corridors and staircases and the fascinating Service Wing from where the house and estate were managed.
Outside the house, there are magnificent walled gardens to explore with an orchard, hens, veg beds and a dovecote. These gardens are lovely and give a real sense of how productive they were for the house before it was given to the National Trust in 1969. There are also some very enjoyable walks around the estate which are all clearly marked. One of them, the Victory V walk, was built in memory of the heir to the house who died in the 2nd World War. We found this walk to be pushchair-friendly in the summer months.
Felbrigg Hall is open from April to October each year, Saturday to Wednesday from 11am to 5pm. The parkland is open all year round.
Location & Contact
Address: Felbrigg Hall, Felbrigg, Nr Cromer, Norfolk NR11 8PR
Tel: +44 1263 837444
MORE ON FELBRIGG HALL
Felbrigg Hall – National Trust
Felbrigg Hall – Wikipedia
Great rates at Norfolk Hotels – Best prices from Hotels.com