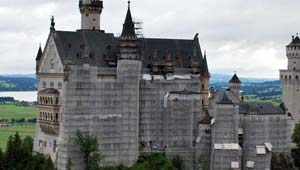 Neuschwanstein Castle in Bavaria is one of Germany's most visited tourist attractions with 1.3 million visitors a year and is reported to be the country's most photographed building too! When you visit, you can see why. Everything about it is eye-catching, from the turrets and towers to its location nestled in the surrounding mountainside.
Even if you've never been to Neuschwanstein before, you'll recognize it, as it was the inspiration for Disney's Sleeping Beauty Castle and was featured in the movie Chitty Chitty Bang Bang.
The castle was built by King Ludwig II who lived in the other castle nearby, Hohenschwangau, and watched his new castle take shape through a telescope. He became somewhat obsessed with gothic looking castles during his life, but despite having Neuschwanstein built to his exacting standards he never got to see it completed.
The sad thing about this is that when you visit, many of the internal features are still unfinished to this day. As such, his old castle is much more interesting to see on the inside than his new one. The irony is, that it was only 7 weeks after King Ludwig's death in 1866, that his new castle was opened to the public.
We had always wanted to see this castle and the external features do not disappoint – its totally over the top design is truly fascinating. Don't expect the inside to live up to the outside though as only a few rooms were completed by King Ludwig.
We'd recommend that you see both castles when you visit and a joint ticket is available from the ticket centre at the foot of the hill. You need to bear in mind just how popular the castles are though, and as such we'd recommend booking online in the summer months.
If you're traveling from Munich, as many visitors do, the journey will take around 2 hours, but it's worth it!
Neuschwanstein Castle and Hohenschwangau Castle are open daily, from April to September between 9am and 6pm, and from October to March between 10am and 4pm. Adult admission is 12 Euros, but we'd recommend the joint ticket with Hohenschwangau at 23 Euros (2012 prices).
There are several tours you can take from Munich including the Neuschwanstein & Linderhof Day Tour and the Neuschwanstein Private Day Tour – these include your transport and admission charges.
LOCATION & CONTACT
Address: Neuschwanstein Castle (Schloss Neuschwanstein), Alpseestrasse 12, D-87645 Hohenschwangau, Bavaria, Germany
Tel: +49 (0) 83 62 93 08 30
MORE ON NEUSCHWANSTEIN CASTLE
Hotels near Neuschwanstein – Best price guarantee from Hotels.com
Neuschwanstein – Official Website
Neuschwanstein & Linderhof Day Tour – A popular tour from Munich
Neuschwanstein Private Day Tour – A popular tour from Munich
Neuschwanstein Castle – Wikipedia
Books on Neuschwanstein – Amazon.co.uk
More Things To Do In Bavaria