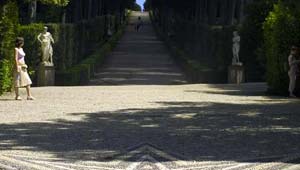 The Boboli Gardens is an attraction in Florence located at the rear of the Pitti Palace, which was the 'new' palace for the ruling family of the city.
We think the gardens are the best bit of the palace to be honest! If you love attractive water features, hidden statues, superb floral walkways, and large terracotta pots, then this is the place for you.
It's a real place to escape the bustle of Florence and you are treated to a perfect classic Italian garden.
The first area you come to is the most formal bit of the gardens with a grand fountain, but as you move further away from the palace, the gardens become less formal with irregular paths and features. All this is located just half a mile from the centre of Florence!
The ticket office for both Pitti Palace and Boboli gardens is on the right hand wing of the palace building. There are several options for tickets and your ticket for the gardens also includes admission to the Porcelain Museum, the Costume Gallery and Museo degli Argenti.
The Costume Gallery – 6000 items including costumes dating from the 16th century.
Museo degli Argenti – The treasury of the Medici located in the Summer Apartments on the ground floor and on the mezzanine floor.
The Porcelain Museum – Located in a separate building (Palazzina del Cavaliere) at the top of the gardens with significant porcelain on display.
Adult admission for the gardens and the galleries listed above is 6 Euros (2011 prices). They are open November to February from 8.15am to 4.30pm, in March from 8.15am to 5.30pm, April, May, September and October from 8.15am to 6.30pm and June to August from 8.15am to 7.30pm.
LOCATION & CONTACT
The Boboli and Pitti Palace, which is on the south side of the river Arno. Simply walk across Ponte Vecchio and keep going straight up the street to get to the palace on the left hand side.
Address: Boboli Gardens (Giardino di Boboli), Piazza de' Pitti, 1, 50125 Firenze, Italy
Tel: +39 055 294883
Email: giardino.boboli@polomuseale.firenze.it

MORE ON BOBOLI GARDENS
Hotels near Boboli Gardens – Best price guarantee from Hotel.com
Boboli Gardens – Florence Museums
Boboli Gardens – Wikipedia
More Things To Do In Florence – From our Tours & Activities pages
Florence Guide Books – Amazon.co.uk
Florence City Guide – From our sister site, Free-City-Guides.com