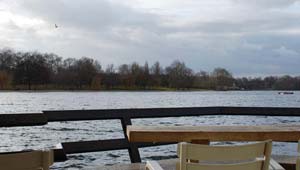 Hyde Park is absolutely huge and dominates a large area of central London. You'll find it at the Marble Arch end of Oxford Street and it continues all the way to Kensington Gardens covering an area of 350 acres. The Royal park is visited by millions of Londoners and tourists every year and is a great place to relax.
The park also has a number of landmarks that form attractions in their own right. Our favourite feature is the Diana, Princess of Wales Memorial Fountain which is a sort of circular man-made river which has bridges and 'rapids' along the way. It's supposed to symbolise the circle of life and Diana's love of children was key to its creation as they're encouraged to paddle in it.
Other features in Hyde Park include an enormous lake called the Serpentine, the Lido for daily public outdoor swimming, Speaker's Corner and the memorial to the victims of the London Bombings on 7th July 2005.
Don't be surprised to see horses in the park either as there is a large exercise track running parallel with Kensington Road. In fact sport is a big factor of the park generally as you'll see lots of joggers and it was used for the Triathlon and the 10K Marathon swimming events at the London 2012 Olympics.
If you fancy some food in the park, you can call into the Serpentine Bar and Kitchen which sits on the lakeside and has panoramic views. Other options are the Lido Café and the café at the Tennis Centre which welcomes visitors as well as players.
Location & Contact
Hyde Parks is administered by a Royal Parks agency
Address: Hyde Park, London, W2 2UH
Tel: 0300 061 2000
Tel: +44 20 7298 2100
MORE ON HYDE PARK
Royal Parks – Official Website
London In One Day Sightseeing Tour – Includes some of the Royal Parks
Hotels near the Royal Parks – Best prices from Hotels.com
Books on London – Amazon.co.uk
London City Guide – From our sister site, Free-City-Guides.com