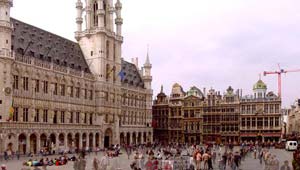 The Grand Place is a large cobbled square is the heart of the old centre of Brussels and it's beautiful! The architecture here is impressive and the whole square is filled with historic charm. You'll find a nice atmosphere in the square on a busy day too and it's surrounded by restaurants and bars. For us, this square was the highlight of Brussels and we spent many hours here eating, drinking and sightseeing.
The Grand Place is also known as Grote Markt on some maps. You'll find year round activities here too with various festivals and seasonal displays. One of these events sees the cobbled floor transformed into a carpet of flowers!
The old town hall is the building that really stands out, but all of the others are worth seeing too including the guildhalls and 'breadhouse'. The Town Hall, which has an imposing gothic tower, dates back to 1402 although construction wasn't completed until 1455.
Make sure you come back at night to see the lights of the square too. The Grand Place is also considered such a treasure of history that it has been designated a World Heritage Site.
LOCATION & MAP
The Grand Place is in the middle of Brussels city centre. Streets leading to it include Rue de la Colline, Rue Charles Buls, Rue Chair et Pain & Rue des Harengs. Nearest Metro stop is Bruxelles Central/Brussel-Centraal but if you're in the city centre anyway, just follow the crowds!
MORE ON BRUSSELS GRAND PLACE
Hotels near Brussels Grand Place – We recommend Hotels.com for best prices and great service
Brussels Grand Place (Grote Markt) – Wikipedia
Brussels Grand Place – Unesco website
Brussels Guide Books – Amazon.co.uk
More Things To Do In Brussels