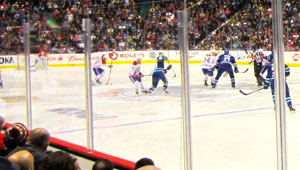 Rogers Arena is located in downtown Vancouver, British Columbia and is a premier events facility hosting numerous sporting and entertainment events. Opened in 1995 it has a capacity of around 19,000 depending on the event being hosted.
A good way to see the stadium is through the Arena tours available. For around $12.00 for adults a guide will show you around and give you an insight into what makes this a world class venue (2012 prices).
The best way to see the stadium is when it's at its most alive. The Rogers Arena is home to the Vancouver Canucks of the National Hockey League and we would recommend trying to get game tickets. Ice Hockey is huge in Canada and the whole district takes on a new vibe on game day. The Vancouver Canucks are members of the Northwest Division of the Western Conference, have a huge following and have won there division on numerous occasions. Game tickets aren't cheap and are in huge demand. We were only able to get single tickets dotted around the stadium.
Inside the stadium we had a good view of the action. Sitting in mixed seating support was vocal an atmosphere was generated by a mixture of the crowd and the PA system. Not being an expert on Ice Hockey the play seemed to be lighting fast and extremely physical.
LOCATION & CONTACT
Address: Rogers Arena, 800 Griffiths Way, Vancouver, BC V6B 6G1, Canada
Tel: +1 604 899-7400
MORE ON ROGERS ARENA
Rogers Arena – Official Website
Rogers Arena – Wikipedia
Vancouver Hop-on, Hop-off Bus Tour – Stops at major locations in Vancouver
Vancouver City Tour – A great way to see Vancouver
Vancouver City Sightseeing Tour – Includes Vancouver's major sights
More Things To Do In Vancouver
Hotels near Rogers Arena (formerly General Motors Place) – Lowest prices from Hotels.com