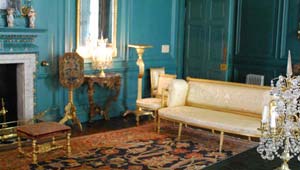 The Treasurer's House in York is at the rear of York Minster and was originally part of the Minster's administration buildings.
In 1897 though, it was bought by a millionaire, a chap called Frank Green, and he set about converting it to his taste with different rooms laid out to represent different periods in history. It was a work of art for him and he went to great detail in each of the rooms he renovated. Most impressive is the great entrance hall which uses fake wooden beams and an extra high ceiling to represent a Tudor style hall complete with minstrel's gallery. Other rooms are set out like historic drawing rooms that you would find in stately homes around the country.
In 1930, Frank Green passed the house to the National Trust with instructions that it must be open to the public and nothing should be changed. As such, you do get the feeling that the whole project was a bit of an ego-trip for him, but it's fascinating all the same.
This building actually has a history stretching 2000 years as the cellar contains the remains of a Roman road. Much of the below ground areas of the house are now the pleasant National Trust Tea Rooms.
There are some additional tours you can take in the house too. It's is reputed to be York's most haunted building and cellar Ghost Tours are available. Also if you want to see what life was like for servants, there is an additional tour of the Edwardian servant's quarters upstairs.
The Treasurer's House is open March to October from 11am to 4.30pm and in February and November from 11am to 3pm (closed Friday's). Adult entry is £5.70 (2012 prices) but you can get in free with the York Pass.
LOCATION & CONTACT
The Treasurer's House is just at the rear of York Minster. The York Hop-on, Hop-off Bus Tour stops nearby.
Address: The Treasurer's House, Minster Yard, York YO1 7JL
Tel: +44 1904 624247
MORE ON THE TREASURER'S HOUSE IN YORK
York Pass – Free entry to the Treasurer's House
Treasurer's House – Official website (National Trust)
Treasurer's House – Wikipedia
VisitYork.org – Official York Tourism Website
York Hotels – We recommend Hotels.com with their lowest price guarantee
York Insight Guide – Amazon.co.uk
York City Guide – From our sister-site, Free-City-Guides.com