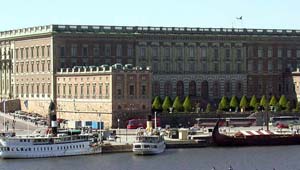 The Royal Palace in Stockholm is the official residence of the King of Sweden and it's absolutely huge! It sits on the edge of Gamla Stan, Stockholm's Old Town and dominates the view of the whole island looking at it from the centre of the city.
A palace has been located on this site since 1697 but the current one is much more modern with 18th century design. You'll want to see the Royal Apartments which contain luxurious state rooms including Gustav III's bed chamber, a banquet hall, guest rooms and the Hall of state. If you've visited other European palaces, then you'll know what to expect and this is on a par with most of them.
In addition to the apartments, there are several other areas in the palace which you can visit. These are optional extras really, so if they interest you, buy a ticket which includes them. The Treasury is a collection of crowns and important jewellery is held in the Palace vaults. The Tre Kronor Museum is all about the Kronor palace which was destroyed in 1697. Gustav III's Antiquities Museum is crammed with art that he amassed along with an impressive collection of sculptures.
The Royal Palace is open daily from mid May to late September from 10am to 5pm. At other times it is open Tuesday to Sunday from 12pm to 4pm. Adult admission to the Royal Apartments is 100 SEK but a combination ticket for all of the areas above is also available at 140 SEK (2011 prices). Tickets are sold in the museum or at the Ticket & Information office in the outer courtyard during normal opening hours. Guided tours occur in English several times a day and are included in your entrance price.
All photos on this page are copyright of the Royal Court and were taken by Alexis Daflos.
LOCATION & CONTACT
Address: Kungliga Slottet (Royal Palace), Slottsbacken 1, Gamla stan, Stockholm, Sweden
Tel: +46 8 402 61 30
The Yellow Route on the Stockholm Hop-on, Hop Off Tour stops at the Royal Palace

MORE ON THE ROYAL PALACE
Royal Palace – Official Website
Royal Palace – Wikipedia
Stockholm Hop-on, Hop Off Tour – Stops at the Royal Palace
More Things To Do In Stockholm
Hotels near the Royal Palace in Gamla Stan – Lowest Prices guaranteed at Hotels.com
Stockholm City Guide – From our sister site, Free-City-Guides.com