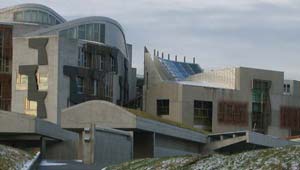 The Scottish Parliament is one of Edinburgh's most striking structures, but it is also very different to most of the city's others which are historic, traditional looking buildings. As such, the architecture of the Parliament has been a talking point since the designs were first seen and you'll either love it or hate it.
You can see much of the building from outside and it looks different from almost every angle! We'd also recommend taking one of the free guided tours to get a better look at the building from the inside. These tours take you to committee rooms, to the debating chamber and down shared corridors. You'll also learn a bit about what the parliament actually does. The tours operate on non-sitting days and you can book in advance.
If you can't get on a tour, you can still see quite a bit of the inside like the Parliament souvenir shop, the cafe, the exhibition in the main hall and the public gallery in the debating chamber at all times when the parliament is open to the public. When inside, take a moment to look for saltire crosses (as used in the Scottish flag). You'll find them etched into the ceilings, walls, the doors almost everywhere you look!
You will have to go through full security to enter the building and if the parliament is busy, this can take a little while. The Parliament building is open to the public as follows:
When Parliament is sitting (usually Tuesday – Thursday) from 9am to 6.30pm.
When Paliament is in recess (Mondays, Fridays & Parliamentary holidays) from 10am to 5.30pm in the summer and from 10am to 4pm in the winter.
Also on Saturdays from 11am to 5.30pm.
The parliament building is at the bottom of the Royal Mile next to Holyrood House and the Edinburgh Hop-on Hop-off Bus Tour stops outside.
LOCATION & CONTACT
Address: The Scottish Parliament, Edinburgh, EH99 1SP
Tel: +44 (0) 131 348 5000
MORE ON THE SCOTTISH PARLIAMENT
More Things To Do In Edinburgh
Visiting the Scottish Parliament – Official Website
Scottish Parliament – Wikipedia
Hotels near the Scottish Parliament – We recommend Hotels.com for the best prices
Ten Hill Place – Our recommended hotel in Edinburgh
Edinburgh Guide Books – Amazon.co.uk
Edinburgh Hop-on Hop-off Bus Tour – Stops at the Scottish Parliament
Edinburgh City Guide – From our sister site, Free-City-Guides.com