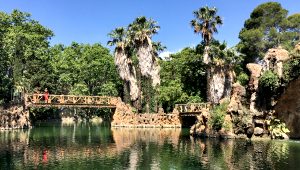 Parc Sama is a historic garden near Cambrils in Catalunya, Spain which retains much of the charm of its creation in 1881. The house here and the surrounding land was the summer residence of Salvador Sama and he wanted it to ignite the imagination and be a delight for the senses. It was also home to a collection of animals from his native Cuba.
Today, many of the main features of the garden remain for visitors to enjoy. The centrepiece is a huge lake surrounded by walkways, grottoes and viewing areas, topped with pergola structure offering a magnificent panorama over the parc.
Other highlights include a castle turret known as the Torre Mirador, a canal and waterfall, caves, fountains and palm trees. Some animals also remain at Parc Sama like deer and parrots, along with a collection of peacocks roaming free.
In his youth, the renowned architect Antoni Gaudi worked here and there is evidence of his style of nature meeting architecture in many of the parc's structures.
The parc surrounds a huge colonial style mansion house, but there is no access to the building on a visit which we thought was a great shame. The parc has seen better days and there is little in the way of formal gardens, but we very much enjoyed experiencing the historic structures.
Parc Sama is open daily from 10am with various closing times depending on the time of year, ranging from 5pm to 10pm. Adult admission is 8 Euros (2018 prices)
Location & Contact
Address: Parc Sama, Carretera de Vinyols, s/n, 43850 Cambrils, Spain
Tel: +34 977 82 65 14
MORE ON PARC SAMA
Parc Sama – Official Website
What To Do In Cambrils – From our sister-site Free-City-Guides.com
More Things To Do In Spain
Cambrils Hotels – We recommend Hotels.com for the lowest rates
Books on Spain – Amazon.co.uk