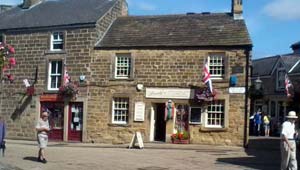 Bakewell is a historic Derbyshire town made famous by its tasty puddings. It nestles in the Peak District, just a short drive from Chatsworth House with Matlock to the south and Buxton to the north.
The arguments over who came up with Bakewell Pudding first still continue to this day and you'll find several shops selling it around the town. The recipes do vary a little from shop to shop, but on the whole there's not a vast amount of difference and they all have that lovely almond-based taste. Remember, a Bakewell Pudding does not have icing on the top – that's a Bakewell Tart! Personally we like the taste of the puddings at the Bakewell Pudding Parlour best, but prefer the consistency of the ones at the Old Original Bakewell Pudding Shop where they come in a nice box.
Apart from the puddings, there's plenty more to see and do in Bakewell. The town has become well known for its independent shops selling gifts, crafts, home interior items, chocolates and outdoor wear. It was declared a market town in 1330 and there's still a market to this day on one of the car parks on a Monday.
All Saints Church is also worth a quick look although most visitors don't climb the hill from the town centre shops to see it. It's a large parish church which was founded in 920.
The river Wye runs right past the town centre and there's an attractive walkway alongside it with bridges to the car parks. Families come here to soak up the sun and feed the ducks.
LOCATION & MAP
Bakewell is located on the main A6 road between Matlock and Buxton. There are regular bus services from Derby and Buxton.
MORE ON BAKEWELL
Bakewell – Wikipedia
More Things To Do In The North Of England
Hotels in Derbyshire – We recommend Hotels.com for the lowest rates
Books on Derbyshire – Amazon.co.uk
Monsal Trail – Our review of the nearby leisure path