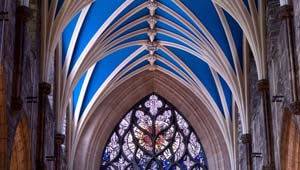 St Giles Cathedral is one of the most distinctive buildings on the Royal Mile in Edinburgh. It's unusual "crown" shaped spire is one of the first things you notice from a distance, but there's plenty more to see when you get up close. It's the High Kirk of Edinburgh and the Mother Church of Presbyterianism and inside there are many areas which mark its significance. In particular, look out for the Chapel of the Order of the Thistle (Scotland's chivalric company of knights headed by the Queen). Another of the most striking features inside is the blue painted roof which sets off the rest of the church beautifully.
There are many notable events to have taken place here over its 900 year history, but one of the most recent was in 2011 when the Queen's granddaughter Zara Phillips got married to rugby player Mike Tindall. Most of the senior royals attended and there was a large worldwide media presence as this was the second royal wedding of the year.
St Giles' is a working church and access may be restricted without notice. A short worship service takes place from 12pm to 12.10pm Monday to Saturday, during which visitors are asked to be silent.
Admission is free, although donations are encouraged. The Cathedral has a cafe which is situated below the main building. The atmosphere is lovely and the food is decent too. The Cathedral also has a shop, but bear in mind that this is not open on Sundays. If you wish to take photos or video inside the cathedral you will need to buy a photo permit from the information desk for £2 (2012 prices).
St Giles Cathedral is open daily in the summer (May-September) Monday to Friday 9am – 7pm, Saturday 9am -5pm, Sunday 1pm – 5pm and for services. Winter (October-April) Monday to Saturday 9am – 5pm, Sunday 1pm – 5pm and for services.
LOCATION & CONTACT
Address: The Cathedral of St Giles, Royal Mile, Edinburgh, EH1 1RE
Tel: +44 (0) 131 225 9442
MORE ON ST GILES' CATHEDRAL
St Giles' Cathedral – Official website
St Giles Cathedral – Wikipedia
Edinburgh City Guide – From our sister site, Free-City-Guides.com
Royal Mile Waking Tours
More Things To Do In Edinburgh