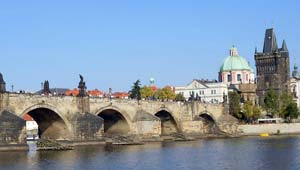 Charles Bridge is one of Europe's most beautiful bridges and is now more of a tourist attraction than simply a river crossing. It's a pedestrian bridge with cobbles and imposing statues along the way and it dates back to 1357. During the day, the bridge is bustling with tourists and is lined with artists selling their work.
In fact, at busy times it's so crowded that you just have to "go with the flow". We'd recommend returning at night when the bridge is much quieter. About half way along, one of the statues has an area that is very well rubbed. This is because it's said that touching this statue will bring you good luck!
Charles Bridge (Karluv Most in Czech) is 516 meters long, nearly 10 meters wide, rests on 16 arches and has around 30 statues which were added around 1700. You'll recognise it from many films too. One movie that features the bridge a lot is the Tom Cruise version of Mission Impossible.
The bridge has gothic looking towers at each end and we'd recommend climbing the tower at the Old Town end for a great view of the river, the bridge and Prague Castle. The Old Town bridge tower is open daily from 10am, closing at 10pm in the spring, summer & autumn and 8pm in the winter. Adult admission is 75 CZK (2012 Prices). The Lesser Town (Mala Strana) bridge tower closes an hour earlier and is the same admission price. Charles Bridge is featured in the Prague In One Day Sightseeing Tour.
Location & Map
Charles Bridge (Karluv Most), is between Mala Strana and the Old Town, Prague 11000, Czech Republic.
Nearest Metro: Staromestska (line A)
More on Charles Bridge
Hotels near Charles Bridge – Great deals from hotels.com
Charles Bridge – Wikipedia
Prague City Guide – From our sister site, Free-City-Guides.com
Prague In One Day Sightseeing Tour – Features Charles Bridge
Prague Photography Walking Tour – Uses Charles Bridge as a location
More Things To Do In Prague
Prague Towers – Latest admission costs for visiting the towers on Charles Bridge
Prague Guide Books – Amazon.co.uk