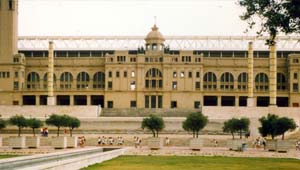 Barcelona's Parc Montjuic was the location for the 1992 Olympic Games and all the facilities are still there to see. The biggest structure is the Olympic Stadium, but you can also see the Swimming Complex, the Olympic Spire structure and an array of landscaped walkways. We really enjoyed just walking around the area, replaying memories of the Olympics that year in our minds.
The stadium is a huge facility but is not as modern as you might think. It was originally built in 1927 ready for the International Expo in 1929 and Barcelona's bid to host the 1936 Olympics but Barcelona lost out to Berlin. The stadium ended up having to wait another 56 years before it was an Olympic venue! To prepare it for the Olympics, it was fully renovated in 1989. The stadium is now named after Lluís Companys, the president of the Catalan government during the Spanish Civil War.
Parc Montjuic itself is a lovely area to walk around as it's pleasant, slightly out of the city and less busy with tourists. A great way to get to the peaks of the parc is to take the Montjuic Cable Car which is a lovely scenic experience. The best way to get to the stadium area is to walk – the nearest Metro stop is Placa Espanya which is still 20 minutes away although there is also a funicular which can be accessed from the metro. The Olympic Stadium is open in the summer, daily from 10am to 8pm and in the winter, daily from 10am to 6pm. Admission to the Olympic Stadium is free.
More Things To Do In Barcelona
LOCATION & CONTACT
Address: Estadi Olimpic, Parc de Montjuic, Barcelona, Spain
Tel: +32 934 262 089
Email: estadi@bsmsa.es
The Olympic Stadium and other sport facilities are on Montjuic Mountain. To walk from Placa Espanya, take Avinguda Maria Cristina and enjoy the pleasant water features along the way including the Magic Fountain. You can also take the Barcelona Hop-on, Hop-off Bus Tour which stops here.
MORE ON BARCELONA OLYMPIC PARK
Olympic Stadium (Estadi Olimpic) of Montjuic – Wikipedia
Barcelona Tourist Guide – From our sister site, Free-City-Guides.com
Hotels near Montjuic Mountain – Lowest price guarantee from Hotels.com
Barcelona Travel Guide Books – Amazon.co.uk