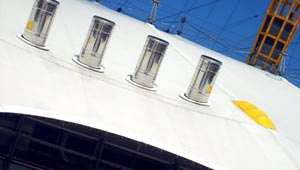 This dome-shaped structure resembles a very large tent and was the centre piece of the UK's millennium celebrations. For many years it was known as the Millennium Dome, but now it houses a massive concert arena, restaurants, shops and a cinema.
This building has a special place in the hearts of British people, somewhere between hate and love. Hate, because it became a symbol of how much money was spent at the Millennium without any long term thought of how it might be used afterwards and love because it's a structure everyone knows which is now, finally, being put to good use.
The dome stood empty for years once the Millennium exhibition inside stopped attracting visitors, but now it's a bustling event-based attraction again. It's free to enter the concourses of the O2 and we'd recommend it because it's a fascinating building to see . Every time we go, something new has opened and it's very busy on a concert night. If you don't have tickets for a show, we think you'll get more out of the experience of visiting on a non-show night, or in an afternoon.
If you've never been before, it's difficult to explain just how big the structure actually is, but if you switch the map below to "Satellite Image" you'll get an idea of its size compared to the things around it.
The nearest tube stop to the O2 is North Greenwich which has a covered walkway from the station into the building but if you don't want to go inside, you can also get a great view of the O2 on a river cruise on the Thames – see the options with latest prices here.
Location & Contact
Address: The O2, Greenwich, London SE10 0AX
Tel: +44 (0) 20 8463 2000

More on the O2
The O2 – Official Website
The O2 by boat – Thames Clippers hop-on, hop-off service
London City Guide – From our sister site, Free-City-Guides.com
More Things To Do In London
Thames River Cruises – Another way to see the O2
Millennium Dome – Wikipedia
Hotels near the O2 – We recommend Hotels.com