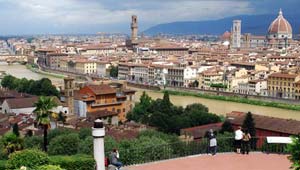 Piazzale Michelangelo is a plaza and viewing area which overlooks Florence and has the most stunning views of the city. It's the place where most of the picture postcard views of Florence are taken and you really shouldn't miss it on a trip here! The terraced viewing area at the top is huge, so there should be plenty of opportunity to take photos even on a busy day.
It's walkable from the centre of Florence, although it is hard work up some of the steps and slopes, or if you prefer you can get the Hop-on, Hop-off bus tour instead as it stops here.
On foot, take either the series of flights of stairs which you take from the main road along the river, next to Porta San Niccolo or the long stairway which you can take from Porta San Miniato. To make the most of our trip to Piazzale Michelangelo, we took one route to get there, and the other to get back. Following the signs from the next bridge along after the Pont Vecchio, the route was under an ancient arch and then up a huge flight of stairs on Via di San Salvatore al Monte. At certain points along the stairs there are entrances to a small park which is really pretty and contains fruit trees and flowers on tiered levels. There and also small viewing areas.
The best thing about the plaza when you get there is that it really does have lots of space for viewing Florence over two levels. There is the road level, but also a greener, garden area slightly below that too.
There are a few amenities here too like a cafe and restaurant although the prices match the view. One other highlight in this area is the lovely little church behind the restaurant. You can also see the view of Florence from the church steps.
We returned down the road way which is crossed by footpaths and stairways ending up at the foot of the hill by a tower called Torre San Niccolo.
LOCATION & MAP
Access to Piazzale Michelangelo is via either Porta San Niccolo or Porta San Miniato. Both routes lead from the main road along the river.
MORE ON PIAZZALE MICHELANGELO
Hotels near Piazzale Michelangelo – We recommnend Hotels.com for the best prices
Piazzale Michelangelo – Wikipedia
Hop-on, Hop-off Bus Tour – Stops at Piazzale Michelangelo
More Things To Do In Florence
Florence Guide Books – Amazon.co.uk
Florence City Guide – From our sister-site, Free-City-Guides.com